So I'm late, as usual. This is a special WOYWW (
http://stamping-ground.blogspot.com/
) since this week I was was visiting my grandpa over the last few days. He's in hospice care at my parents house 6 hours from here. I had a few days just to sit with him and chit chat while he was awake, and read or paint while he rested. We had a great visit. I was amused to see this 94 year old farmer fall in love with my parents little dachshund, Rusty. Rusty has refused to leave his side since he first started getting sick (when he aspirated). The little stinker crawls right back into his bed and snuggles by Pa after we place him on the floor. Pa says he does more good than any doctor ever could. On Wednesday, I was back on the road so I could go back to work today.
Painting while my grandpa rests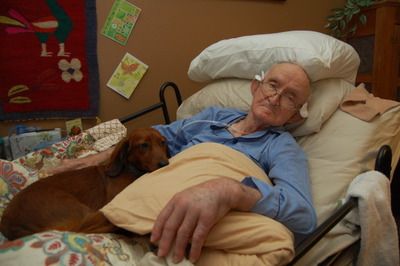 Rusty snuggling with Pa.
Pa has had lots of visitors.
While I was in AR, I dropped by to say hello to my in-laws at Art Outfitters in Little Rock. Of course...I had to make a few little purchases. So here are the additions I made to my art stash :)